Buyers faltered for the first time in twelve straight months of increased demand
(July 16, 2021) – According to new data from the Minneapolis Area REALTORS® and the Saint Paul Area Association of REALTORS®, the median sales price for a home grew 14.8 percent to $350,000 in the Twin Cities metro area over the month of June. This milestone figure is the result of consistent year-over-year growth in median sales price. This year, all six months have experienced a 10.0 percent increase or greater in median sales price, amounting to a nominal increase of $49,000.
Buyer activity in June fell slightly, down 2.5 percent from 2020, after twelve straight months of strong upward momentum. Although this past month was inconsistent with the year-long positive trend, 2021 surpassed the benchmark set in 2019 by 10.9 percent when considering year-to-date performance. Additionally, median days on market for listings remained at a rapid seven days, indicating that demand for homes continues to stay strong.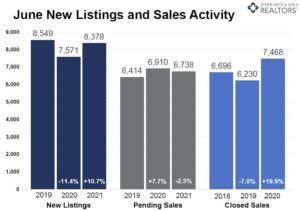 "Declining buyer activity could be a result of the stiff competition buyers are facing and the end of quarantine restrictions that allow us to focus on family during the summer holidays," according to Todd Walker, President of Minneapolis Area REALTORS®. "While increasing home prices are usually a good sign for our industry, frequent bids over asking price will naturally cause some buyers to wait out until the market softens and they have a better chance to secure their next home."
Seller activity grew 10.7 percent last month, resulting in a year-to-date high of 8,378 homes. However, new listings in June were marginally below 2019 performance, down 2.0 percent. As buyer demand out-paced seller supply in the past two years, the Twin Cities continued to be a strong sellers' market throughout June. The month's supply of inventory for the metro area remained at 1.0 month, a figure that has not grown significantly all year.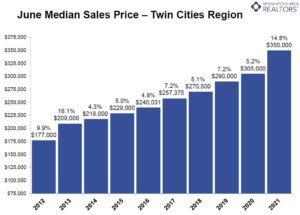 "Although the supply of new listings for June was comparable with pre-COVID performance, there is not enough inventory to meet our current demand," said Tracy Baglio, President of the Saint Paul Area Association of REALTORS®. "Our Realtors® and their clients are eager for a larger, more diverse, inventory in the housing market. A sustainable balance of buyers and sellers will lead to long-term success in our industry."
Activity varies by area, price point and property type. Sales of single-family homes were up 47.7 percent in Minneapolis and up 43.3 percent in St. Paul, suggesting demand remains strong in the core cities. Condos continue to lead sales growth by property type. Across the 16-county Twin Cities region condo sales rose 70.5 percent. Sales of previously owned homes rose 23.6 percent while new construction rose 8.2 percent.
May 2021 by the numbers compared to a year ago• Sellers listed 8,378 properties on the market, a 10.7 percent increase from last June
• Buyers signed 6,738 purchase agreements, down 2.5 percent (7,468 closed sales, up 19.9 percent)
• Inventory levels fell 35.5 percent to 6,592 units
• Month's Supply of Inventory was down 47.6 percent to 1.1 month (4-6 months is balanced)
• The Median Sales Price rose 14.8 percent to $350,000
• Days on Market decreased 52.4 percent to 20 days, on average (median of 7 days, down 61.1 percent)
• Changes in Sales activity varied by market segment
Single family sales were up 18.3 percent; condo sales rose 70.5 percent; townhome sales increased 13.5 percent
Traditional sales rose 21.5 percent; foreclosure sales were down 72.1 percent; short sales fell 16.7 percent
Previously owned sales were up 23.6 percent; new construction sales dropped 8.2 percent